WELCOME
GLORYLIFE ADVENTURES IS A CHRISTIAN ORGANIZATION AFFILIATED TO GLORYLIFE GENERATION MINISTRIES INTERNATIONAL,TEMA-GHANA.WE SEEK TO CONNECT CHRISTIANS/PASTORS,ETC TO CHURCHES IN GHANA.THOSE WHO SEEK VOLUNTEER SERVICE IN AREAS LIKE,EVANGELISM &CHURCH PLANTING, TEACHING,WORKING WITH NGO'S &HOSPITALS CAN CONTACT US.DO YOU WANT TO TRAVEL TO GHANA?OUR MAIN VISION IS TO RAISE SUPPORT FOR THE POOR AND NEEDY IN OUR RURAL COMMUNITIES BY RAISING USED CLOTHES,FOOTWEAR,FOOD,MEDICATION,SCHOOL LEARNING MATERIALS,USED COMPUTERS,TOYS,ETC
THE FOUNDER,PASTOR AUGUSTINE WIAFE(married with 2 daughters) IS ALSO A BOARD MEMBER OF PROGRESSIVE WOMEN'S MOVEMENT(NGO) THAT TRAINS WOMEN WITH INCOME GENERATING SKILLS LIKE GROWING & PROCESSING OF CASSAVA,BATIK AND TYE &DYE MAKING,BEADS JEWELRY MAKING,ETC TO TRANSFORM THEIR FAMILIES.WE REACH OUT TO THE RURAL FOLKS WITH THE WORD OF GOD.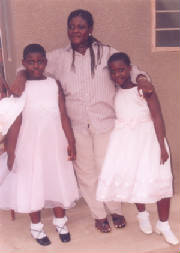 DO YOU LIKE TO VISIT GHANA AND TO BE HOSTED BY A FAMILY?OR ARE YOU CALLED TO GHANA FOR GOD'S WORK AND DO YOU WANT CHURCH LINKS IN GHANA,THEN YOU CAN CONTACT US.

WE CAN ALSO TAKE ALL YOUR GOOD WILL DONATIONS TO HELP PEOPLE WHO ARE IN NEED.CHURCH USED EQUIPMENT & CHOIR ROBES,CHAIRS,BIBLES,CHRISTIAN LEARNING MATERIALS, CAN BE A BLESSING TO SOME CHURCHES IN GHANA.

ALL COMMUNICATIONS MUST BE ADDRESSED TO :PASTOR AUGUSTINE WIAFE

We hope you'll find the information you need on this site.We look forward to working with you.

19740 WOOTTON AVE

POOLESVILLE,MD 20837

USA

OR

GLORYLIFE ADVENTURES

P.O.BOX TT 56,MANHEAN

TEMA NEWTOWN

GHANA

women being trained by PROGRESSIVE WOMEN'S MOVEMENT(NGO) at WUSUTA in the VOLTA REGION,GHANA.The women receive skills here by the NGO to improve their livelihood and that of their families.Donations can be received to help these poor people.